__________________________________________________________________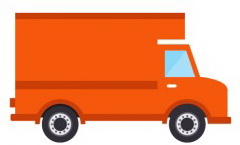 Shipping from Russia is free of charge
Time of processing
The time it takes to prepare an order for shipping depends on a number of factors. For more details, see the information on a specific product in the product card.
Customs fees and import duties
Buyers are responsible for all customs fees and import duties charged. The seller is not responsible for the delay in delivery due to customs.
Return Policy
The return procedure is governed by the rules of international payment systems.
The procedure for returning goods is regulated by Article 26.1, Clause 4 of the Law of the Russian Federation of February 7, 1992 N 2300-1 "On Protection of Consumer Rights":
- The consumer has the right to refuse the goods at any time before its transfer, and after the transfer of the goods - within seven days.
Return of goods of proper quality is possible if its presentation and consumer properties are preserved.
Buyers are responsible for return shipping costs. If the item is not returned in original condition, the buyer is responsible for any loss of value.
In the event that more than 7 days have passed since the delivery of the goods, please contact me if you have any problems with your order.
The following items cannot be returned or exchanged
• The consumer does not have the right to refuse a product of proper quality, having individually defined properties, if the specified product can be used exclusively by the consumer who purchases it.
• Personalized orders
• Intimate items (for health/hygiene reasons)
• Goods for sale/pledge
Rules for returning goods when paying with cards
When paying by card, cash refunds are not allowed.
If the Buyer refuses the goods, the seller must return to him the amount of money paid by the Buyer no later than ten days from the date the Buyer submits the relevant request.
To return funds to a bank card, you must fill out the "Application for the return of funds" in any form, then send it to the e-mail address of the store peachthecat@yandex.ru
Refunds will be made to the Buyer's bank card within 10 (ten) working days (excluding holidays/weekends of the Russian Federation) from the date of receipt of the "Application for a refund".
To return funds for operations carried out with errors, send an e-mail to the store address peachthecat@yandex.ru, where you describe the situation with the erroneous debiting of funds. The refund amount will be equal to the purchase amount.